SINGLE SCREW EXTRUDER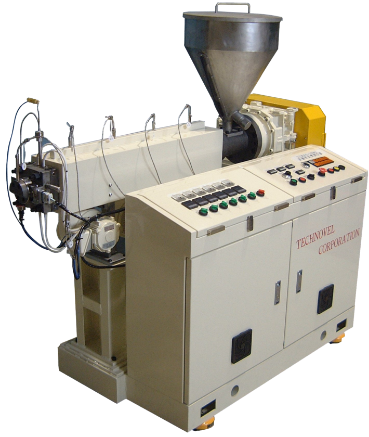 The single screw extruder "SZW" series, which is standard molding, such as direct film/sheet, direct tube/pipe, corrugate, spinning extrusion processing.
POINT01

Improved process

Developed high performance single screw extruder that improve material quality.
Technovel engineer design and manufacture the SZW series that meets customer needs.

POINT02

Technovel original design

By docking with the ancillary equipment, it can be used not only extruder itself but also as total extrusion system.
Usage ezample
Composite melt spinning molding line

Multi-layer film molding line
Technical Data
Screw diameter
06, 08, 12, 15, 20, 25, 30, 40, 50, 65, 90, 115, 150
Number of screw
ST : Strand
GT : Others
L / D
15~45
Grade
MG : Normal operation
VG : Vent operation
Screw rpm
STD : 60-100rpm
MIS : 101-300rpm
HSS : 301-600rpm
Please free to contact us.